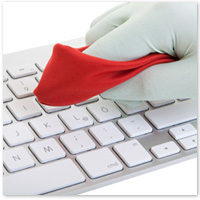 office cleaning
- regular cleaning – day, afternoon or night service
- one-off cleaning, for particular occasions or provision of a substitution service
- cleaning of windows, shop windows and blinds
- cleaning of lining and upholstered furniture (prices negotiable)
- machine floor cleaning (prices negotiable)
- cleaning areas in the immediate vicinity of a company's business premises and clearing of snow
We attend for at least 4 hours.
We also provide services for small and medium-sized business
We provide our regular clients with services according to a fixed schedule and assign the same cleaners to the facility/client.
We issue invoices once a month for the amount quoted in the agreement and request bank transfer payment.
We charge at an hourly rate, not according to the area of the facility.
Our sample quotation for an office of 50 – 400 m2:
- cleaning once a week (4 hours) – PLN 450 per month
- cleaning twice a week (4 hours) – PLN 900 per month
- cleaning once a fortnight (4 hours) – PLN 250 per month
Office space of more than 400 m2 may require extra work.
We are open to negotiations concerning the conditions on which we provide services in order to fully meet your expectations.
The price excludes cleansing agents and hygiene materials. We use our clients' cleansing agents or provide our own for an extra charge.
We own and provide modern equipment.
VAT should be added to the quoted price.