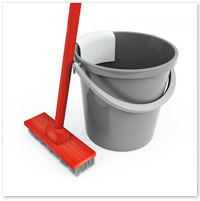 tidying and cleaning following construction
- thorough, comprehensive cleaning and tidying of newly built houses and facilities
- cleaning and tidying after building renovation work, painting and installation replacement
- incidental tidying up during fitting out of a residence
- machine floor cleaning (prices negotiable)
- professional cleansing agents and all equipment needed
- constant supervision over the cleaning team
Teams of four work under the supervision of the owner.
The working day of a team is 10 hours.
We accept orders also from the vicinity of Warsaw.
In the case of smaller orders we may send 1, 2 or 3 cleaners.
We can provide services on a regular basis with regard to further cleaning of the facility or a house that we cleaned previously for you.
The price does not include cleansing agents. The charge for supplying cleaning equipment and agents is PLN 200.
Our team may also use cleaning equipment and agents provided by the client.
We are always on time and deliver an impeccable service.
If needed, we work with a decorating team for proper coordination of tasks in the appropriate order.
We are ready for any challenge.